The back to school season has started and for many of us, it also means back to work after a very strange summer break. The COVID-19 pandemic has shaken up our habits but at DWService, we're trying our best to help you go through this crisis as smoothly as possible.
Improve your workflow with DWService
In many countries this health crisis, caused by the COVID-19 virus has developed new work flows. In some cases, employees will take a turn to work at their office so that the physical distancing is properly in place. In other cases, employees who usually come to work by public transports are invited to stay in their home-office as often as they can in order to stay safe.
In this surreal landscape, it is important to have the proper tools to work efficiently and DWService will surely help you be more flexible. This is especially true if you have a desktop computer at home or at work that you cannot easily move from one place to the other. Besides you may not want to have to carry a laptop with you back and forth or remember to take that USB flash drive containing your work projects.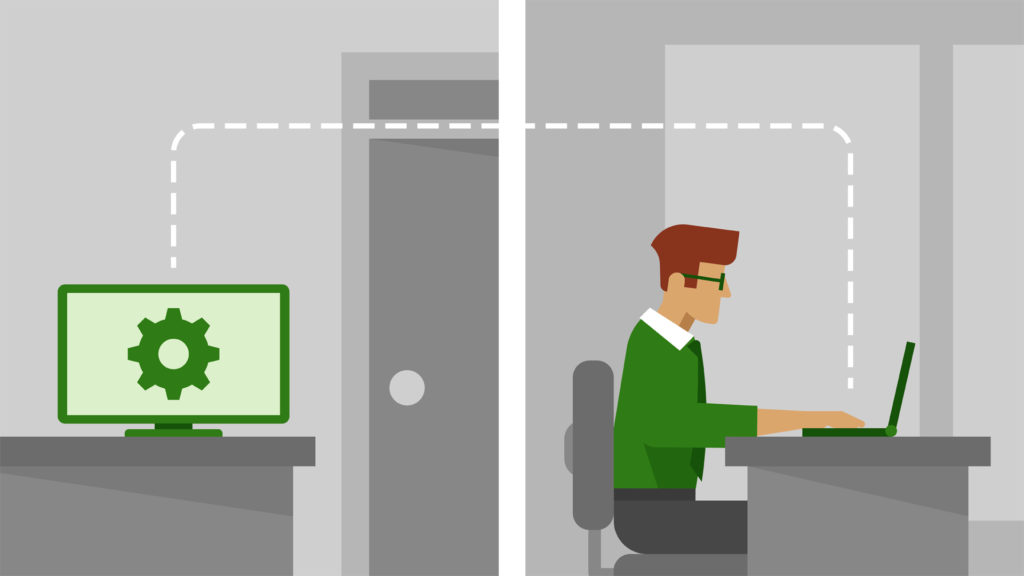 We have optimized DWService to improve your work-from-home experience
For those of you who are not too familiar with DWService, installing the software – the agent – on a computer will allow you to access it from anywhere in the world, right from any modern browser such as Google Chrome, Opera, Vivaldi, Brave, Firefox, Safari or Microsoft Edge. You'll be able to access the local files, the hard drives or USB sticks plugged to it or the screen. More advanced features enable you to manage real-time resources with an activity monitor or start a terminal session on the remote machine. Check out the list of features.
DWService is free for everyone, but as COVID-19 continues to spread around the world, you may start using it use on a regular basis then you want to check out our subscriptions starting at only 2€/month or 20€/year. You'll get more bandwidth and won't be limited.
Improving the infrastructure
As the COVID-19 virus expanded throughout the world, we've seen more activities on our side. More people use DWService on a daily basis. So we decided to improve our infrastructure as a whole: software and hardware.
Hardware improvements
On the hardware side, we have set up new nodes. As a reminder, nodes are at the core of DWService. It allows the connection between the user and the agent. When the agent connects to the DWService infrastructure, it is redirected to the nearest node or to a less loaded one. It ensures a fast, stable connection.
We now have 12 nodes around the world and we have improved the CPU – processor power – memory and bandwith for all of them. If you'd like to contribute and set up a node, please refer to this page.
Software improvements
Automatic reconnections
We have also made improvements to the agent. Whenever a connection is lost on the remote computer, the agent now tries to reconnect itself to the same node so you can access the remote machine again.
Better browser caching
On the user side, we have optimized browser caching. Whenever viewing the screen of the remote machine, elements that you have loaded in the browser will only refresh if a change occurs. This drastically improves and fastens your remote experience.
Better banwidth management
In addition, we are currently focusing on detecting the screen area that is activated (scrolling or moving a window) when a user accesses the screen of the remote machine. This way, it sends less data to the browser, the app is more responsive and the nodes use less bandwidth.
Better node management
We are also working on improving node managements. When a session is activated, the agent will not just look for the closest nodes but will be redirected to the one that performs best in real-time.
We hope those improvements will optimize your workflow in this COVID-19 crisis and make it easier for you to either access your home or your work computer.
But there is much more to come ! Stay tuned !