We are constantly increasing the security of DWService and lately we added an option to add your personal computers as trusted devices. This should make things easier on your side.
Recently, we have been collecting your feedback in order to better understand what you are expecting and so that we could work much faster on things that do matter to you. One of those was to find a way that would bring security without compromise.
Making your life a bit easier
You have been able to turn on the two-factor authentication system for a while now. However, for our regular users, we understand this was a pain to unlock the smartphone and generate a ToTP code for each new session. What if we could have trusted devices ? You asked. So that's what we have been working on. And the feature is now live on DWService.net.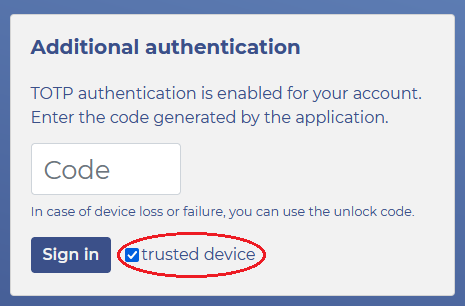 Next time you log in your account, you will be able to add a computer on your list of trusted devices. And it is as simple as checking a box ! For instance, you may choose to opt in this option on your home computer or on your personal laptop while still maintaining the ToTP login process at work.
And a bit more secured
We have received numerous messages from people who were not able to log in their account because they lost their smartphone. Thus they could not generate a ToTP code to bypass 2FA. Most of them had not kept the recovery code that is displayed after activating the two-factor authentication option. Unfortunately in this case there is nothing that we can do on our side.
However if you set up one of your computers as a trusted device, then things suddenly become easier if you happen to lose your smartphone. You will not be locked out. You will not be able to disable 2FA but at least you'll get an access to your configured agents.

How to review your trusted devices
If you have accidentaly added a computer as a trusted device you may remove it from your account.
In order to do so, please head over to My account under the section titled "Additional authentication" click on Settings. You'll find your list of authenticated computers over there.