It's time to have global look at DWService and see how the service has been used by people all over the world those past six months. During that time, many countries all over the world had to set up special measures to favor homeworking, but also homeschooling in order to fight COVID-19.
Historically, DWService has been mainly used by consumers who want to be able to access their remote machines as well as by IT Support teams which rely on the service to provide assistance to their customers. However, as the pandemic changed the face of the world, those usages have evolved. We now see more and more companies choosing DWService to provide their employees with a tool to remotely access their work machines. Also many schools and universities have started to rely on DWService to maintain a level of tuition for the students.
Indian users are rising
From Alaska to Papua New Guinea, from Greenland to Tierra del Fuego, since october, DWService has been used in 211 countries according to Google Analytics. For reference, if nobody really agrees on the number of countries around the globe, Google has a list of 230 countries for their data.
The top country remains the United States which represents more than 15% of the global traffic recorded by DWService. The top 5 states are California, Texas, Florida, New York and Virginia. However DWService has been used all over the country. To ensure a good traffic, there are four nodes set up in this vast territory located in Los Angeles, Dallas, Vint Hill and Chicago.
In second place, Brazil is the top South American country with nearly 10% of the global traffic. Local users can rely on a node located in Chapecó. France and Italy are respectively positioned in third and fourth position.
We have observed a rise of users located in India. Indeed, the local governement confined a billion people in order to fight Covid-19. India suddenly grabbed 6,63% of the DWService global traffic.

Most of you are using Windows & Chrome but also…
Unsurprisingly, Google Chrome is widely used among DWService users with a share of 59,03%. Firefox comes in second place with a rate of 16,52% while Microsoft Edge and Safari respectively hold 11,41% and 7,80% marketshare.
Three quarters of our users access DWService from a Windows machine. macOS (7.34%) comes second. Interestingly enough, there are as many Linux users 5,93% as Android users (5,82%). Since october 2020, 19 915 people have accessed DWService from an iPhone. Now who are those 18 Windows Phone users !? 🙃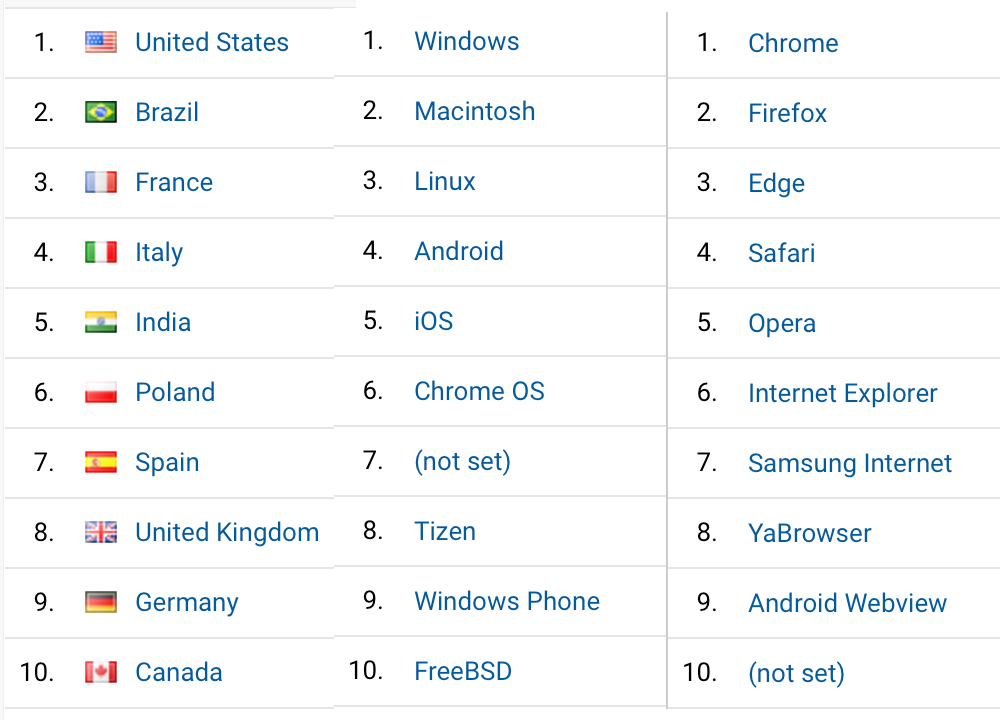 What we have done for you
Those past 6 months, we have not stopped our efforts to make DWService even better for everyone. Here is a round up of what we have introduced.
Remote stream audio : you now have the ability to directly stream audio from your remote machine.
Learn more
DWService APIs : developers now have the ability to rely on our new set of APIs in order to use DWService right within their own applications.
Learn more
Transparency notification : we have added an option for end users to locally controle remote access.
Learn more
Web Shell for Windows : You can now send terminal commands to Windows 10 / Server remote machines.
Learn more
Two new nodes : We have opened a new node in Belgium (Antwerp) and another one in France (Paris) in order to make the traffic even smoother
Learn more about nodes
We survived a major fire incident ! Yes we did ! Our master server was hosted by OVH. To this day, many companies still have not recovered their data. But we did, and we did it very quickly. DWService was down just a few hours.
Learn more
All of this would not have been possible without our premium members who chose to support us by subscribing to DWService. We want to thank them all. We have a wide range of
premium plans
starting at just $3/month (or $30/year). Check them out and make the most of DWService.